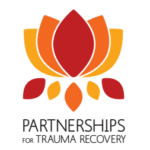 Partnerships for Trauma Recovery does not have any open positions at this time.  Check back in for new positions!
HOW TO APPLY FOR OPEN POSITIONS 
Preferred form of contact is email.  If interested, please send a one-page cover letter and resume to jobs@traumapartners.org. Applications will be reviewed on a rolling basis and desired start date is as soon as possible. To learn more about Partnerships for Trauma Recovery, please visit our website at www.traumapartners.org.
PTR is committed to creating a diverse workplace that reflects the nature of our work, as well as our client population. POC and LGBT candidates are strongly encouraged to apply.
Partnerships for Trauma Recovery is an equal employment opportunities (EEO) organization and does not discriminate on the basis of ancestry, age, color, disability (physical and mental, includes HIV and AIDs), genetic information, gender, gender identity, gender expression, marital status, military or veteran status, national origin, race, religion (includes religious dress and grooming), sex (includes pregnancy, childbirth, breastfeeding, and/or related medical conditions), sexual orientation, or request for FMLA in accordance with applicable federal, state and local laws.
---